Laboratory Geophysics
Laboratory geophysics techniques are performed through a new advanced oedometer cell, which allows 3D Electric Resistivity Tomography (ERT) and seismic wave velocity measurements: spatial and temporal variation of electrical properties are monitored under controlled mechanical and hydraulic conditions.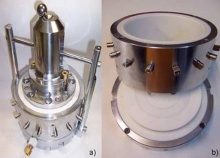 The device has an internal diameter of130 mm, and can accommodate samples up to60 mmin height. The cell has 42 electrodes located on its internal boundary; 16 are equally spaced on the sidewall, and 13 are on each of the base and top plates.
The cell allows drainage via the top and base plates. The drainage system is composed of three concentric nonconductive rings with a few micrometres of tolerance between them, resulting in an equivalent permeability of about 6 x 10-6 m/s.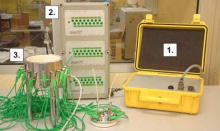 The Complex Impedance Tomograph used for injecting currents and acquiring potentials was constructed by the Iridium Italy (link) company. It is a very fast acquiring device with a 16 bit resolution. The instrument can perform approximately 200 acquisitions per second (at an operating frequency of 1 kHz) so that it is possible to properly appreciate water content or concentration variations inside samples also for relatively fast transitory phenomena.
The electrical measurements are performed on the basis of a four point measurements scheme. Electrodes placed on the sidewall and plates are used alternatively to inject current and to measure the electrical potential.
After performing a large enough number of independent measurements (~ 800), the electrical conductivity distribution within the sample is estimated with a reconstruction procedure using a commercial software developed by sc-aip, based on a least-squares algorithm with a Tikhonov regularization inversion technique.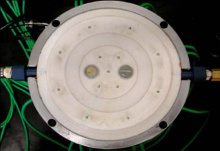 Sensors for the measurement of P and S wave velocity are allocated on top and bottom caps of the cell. For S wave measurements cantilever mounted PZT-5A Bimorphs by Morgan Electro-Ceramics (10 by 20 by 0.5 mm3) with a parallel connection are used. The transducers used to generate and receive P waves are a lead zirconate titanate ceramic PZT-5A with a cylindrical shape. The ceramic element is produced by Physik Instrument with a thickness of2 mmand a diameter of8 mm. Both seismic sensors are allocated in an opposite space in the bases and covered by a thin surface of epoxy in order to insulate the piezoceramic from interstitial water.
The equipment was realised in collaboration with Universitat Politècnica de Catalunya.
This new equipment has been used to perform some tests:
detecting water content changes in homogeneous samples, both in stationary and transient conditions: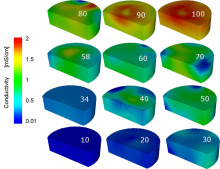 as for stationary condition, ERT measurements have been performed to evaluate the degree of saturation. Experiments have been conducted on homogeneous samples compacted at different value of water content. For each sample, ERT and wave velocity measurements have been executed;
as for transient condition, ERT measurements have been used in conjunction with a finite element simulation to infer the water retention curve and the unsaturated hydraulic conductivity of coarse and fine homogeneous samples.
monitoring of salt diffusion in a homogeneous and heterogeneous saturated soil.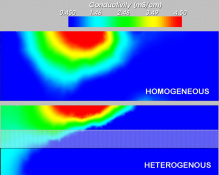 Tests have been used to study the chemical behaviour of geomaterials and to evaluate the clay barriers performances;
monitoring of compression and swelling under mechanical loads.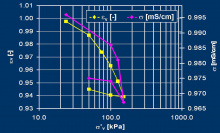 Test have been performed on a preconsolidated kaolinite homogeneous saturated sample to valuate the variation of porosity during oedometer test.
Experimental tests have been conducted in collaboration with:
Ph.D. Cesare Comina (Assistant Professor) – Department of Earth science, Università degli Studi di Torino,Turin,Italy
Ph.D. Gabriele Della Vecchia (Assistant Professor) Department of Structural Engineering, Politecnico di Milano,Milan,Italy
Current status of the research
Nowadays, a new 3D ERT oedometer cell is building, in collaboration with Universitat Politècnica de Catalunya. The new cell will allow performing tests on unsaturated soils controlling either matric or total suction, through the axis-translation technique or vapour transfer technique, respectively.
People
Publications
2013
Electrical Resistivity Tomography: combined field and laboratory experiments for the characterization and monitoring of hydrocarbon pollution
Proceeding


Arato, Alessandro; Cosentini, RENATO MARIA; DELLA VECCHIA, Gabriele; Foti, Sebastiano; Godio, Alberto; Musso, Guido
In: Geotechnical and Geophysical Site Characterization 4
CRC Press (Taylor & Francis Group)
4th International Conference on Site Characterization, ISC'4 (Pernambuco; Brazil) 18-21 September 2012
Vol.2 pp.8 (pp.1789-1796)
2012
Estimation of the hydraulic parameters of unsaturated samples by electrical resistivity tomography
Article


Cosentini, RENATO MARIA; DELLA VECCHIA, Gabriele; Foti, Sebastiano; Musso, Guido
GEOTECHNIQUE
Thomas Telford
Vol.62 pp.12 (pp.583-594) ISSN:0016-8505 DOI:10.1680/geot.10.P.066
2011
Misure elettriche tomografiche in laboratorio per la stima della efficienza delle barriere argillose nei processi di diffusione.
Proceeding


Cosentini, RENATO MARIA; DELLA VECCHIA, Gabriele; Foti, Sebastiano; Musso, Guido; Comina, Cesare
In: Titolo volume non avvalorato
Incontro Annuale dei Giovani Ingegneri Geotecnici IAGIG (Salerno (Italia)) 27-28 Maggio 2011


3D-electrical resistivity tomography monitoring of salt transport in homogeneous and layered soil samples
Article


Comina, Cesare; Cosentini, RENATO MARIA; DELLA VECCHIA, Gabriele; Foti, Sebastiano; Musso, Guido
ACTA GEOTECHNICA
Springer
Vol.6 pp.9 (pp.195-203) ISSN:1861-1125 DOI:10.1007/s11440-011-0146-3

La tomografia elettrica in laboratorio come tecnica per la caratterizzazione idraulica dei mezzi porosi ed il monitoraggio dei processi transitori
Proceeding


Cosentini, RENATO MARIA; DELLA VECCHIA, Gabriele; Foti, Sebastiano; Musso, Guido
In: Innovazione tecnologica nell'ingegneria geotecnica
Edizioni Agi
XXIV Convegno nazionale di geotecnica (Napoli) 22-24 giugno 2011
Vol.2 pp.8 (pp.687-694) ISBN:9788897517009
2010
2009
Analisi della variazione del grado di saturazione mediante misure di tomografia elettrica
Proceeding


Cosentini, RENATO MARIA; DELLA VECCHIA, Gabriele; Foti, Sebastiano; Musso, Guido
In: Titolo volume non avvalorato
Incontro Annuale dei Ricercatori di Geotecnica (Roma) 9-11 Settembre 2009


Monitoraggio di prove geotecniche di laboratoriotramite tecniche geofisiche in cella edometrica (EITEDOMETER)
Proceeding


Comina, Cesare; Cosentini, RENATO MARIA; Foti, Sebastiano; Musso, Guido
In: Titolo volume non avvalorato
28° Convegno nazionale GNGTS (Trieste) 16-19 novembre 2009
(pp.561-564)

Monitoring transient hydro-mechanical processes in porous media using electrical resistivity tomography
Article


Comina, Cesare; Cosentini, RENATO MARIA; DELLA VECCHIA, Gabriele; Foti, Sebastiano; Musso, Guido
PURE MATHEMATICS AND APPLICATIONS
Vol.20 pp.3 (pp.165-167) ISSN:1218-4586
2008
EIT oedometer - an advanced cell to monitor spatial and time variability in soil
Article


Comina, Cesare; Foti, Sebastiano; Musso, Guido; Romero, E.
GEOTECHNICAL TESTING JOURNAL
Vol.31 (5) ISSN:0149-6115 DOI:10.1520/GTJ101367

Monitoring 3D diffusion processes with high speed electric tomography
Article


Comina, Cesare; Festa, C; Foti, Sebastiano; Musso, Guido
THE LEADING EDGE
Vol.31 (pp.468-471) ISSN:1070-485X
2005
Imaging heterogeneities with electrical impedance tomography: laboratory results
Article


A., Borsic; Comina, Cesare; Foti, Sebastiano; Lancellotta, Renato; Musso, Guido
GEOTECHNIQUE
ICE
Vol.55 pp.9 (pp.539-547) ISSN:0016-8505 DOI:10.1680/geot.2005.55.7.539

IMAGING HETEROGENEITIES AND DIFFUSION IN SAND SAMPLES
Proceeding


Comina, Cesare; Foti, Sebastiano; Lancellotta, Renato; Musso, Guido
In: Titolo volume non avvalorato
Proceedings of the 11th International Conference of the International Association of Computer methods and Advances in Geomechanics IACMAG2005 (Torino)
Vol.2 (pp.27-34)
Total: 16